The NYC Leadership Academy today appointed Dr. Darline Robles and Dr. John Garcia III to its Board of Directors.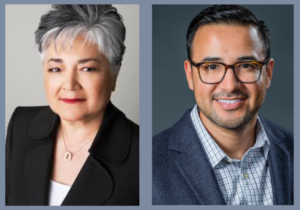 Dr. Robles is former Superintendent of the Los Angeles County Office of Education, the first woman and Latina to hold that post. An expert in culturally proficient leadership and closing opportunity gaps for students, she is currently a professor of clinical education at the USC Rossier School of Education.
Dr. Garcia is the President & Chief Deputy of Strategic Partnerships and Innovation for the Los Angeles County Office of Education, where he manages outreach, initiatives, and grantmaking focused on improving educational outcomes and opportunities in Los Angeles County. His impressive career in education includes advising on policy for the White House Initiative on Educational Excellence for Hispanics. He is a member of the board of Grantmakers for Education.
"We are proud and honored to have Dr. Robles and Dr. Garcia join our board as critical thought partners and advocates," said NYC Leadership Academy President & CEO Dr. Nancy B. Gutierrez. "Their expertise and unwavering dedication to confronting inequities in schools is in lock step with our own efforts to develop leaders equipped to close opportunity gaps for students, particularly those who have long been failed by our school systems including children of color, students with disabilities and English language learners." 
Said Dr. Garcia, "I am excited about the opportunity to serve an organization committed to advancing educational leadership and issues of equity across the nation. The NYC Leadership Academy has a storied history of supporting the development of strong educational leaders. Under Nancy Guiterrez' leadership, the Academy has continued to expand their work nationally and focus on supporting communities and schools with the greatest needs." 
As superintendent of the nation's largest regional education service agency, serving 93 school districts and 55 joint power agencies that educate 1.7 million students, Dr. Robles focused on at-risk and special needs students and cash-strapped districts, particularly those with low-performing schools. She also led a reorganization of her office's highly lauded Head Start preschool program. Dr. Robles co-authored "A Culturally Proficient Society Begins in School: Leadership for Equity," published by Corwin Press in 2011. Earlier in her career, Dr. Robles served as Superintendent of Schools for Salt Lake City School District where she was successful in closing the achievement gap and significantly reducing the dropout rate, and as Superintendent of Schools for Montebello Unified School. In October 2009 and 2011, Dr. Robles was named one of the nation's top 100 influential Hispanic Americans by Hispanic Business magazine and in March 2010 was a "Women of the Year" recipient by the L.A. County Commission for Women. Dr. Robles is committed to public service and serves on many local and national boards. She was named to the President's Advisory Commission on Educational Excellence for Hispanics. Robles received her Ph.D. in Education Policy and Administration from the University of Southern California, her M.A. in Education from the Claremont Graduate School, her B.A. in History from California State University, Los Angeles and her A.A. in History from East Los Angeles College. 
Dr. Garcia has served as the program officer for education at the California Community Foundation and has served as a consultant with Jobs for the Future, the Southern Regional Education Board, and the National Governors Association. He spent four years as a school counselor in an urban school district and was the Westside Impact Teacher of the Year in 2010. Dr. Garcia taught college success strategies at Phoenix Community College and was founding director of the Arizona College Access Network. He was a policy analyst for the White House Initiative on Educational Excellence for Hispanics and was a doctoral resident with the Gates Foundation. Garcia holds a business degree in supply chain management and a Master of Counseling from Arizona State University, and a doctorate in education leadership from the Harvard Graduate School of Education. 
Dr. Robles and Dr. Garcia join our national board of leaders in education, business, and law.  
About NYC Leadership Academy 
NYC Leadership Academy is a nationally recognized nonprofit organization that builds the capacity of educational leaders, at every level of the system, to confront inequities and create the conditions necessary for all students to thrive. Since 2003, NYCLA has worked with thousands of leaders in nearly 200 school systems across 36 states, Washington, D.C., and two countries.