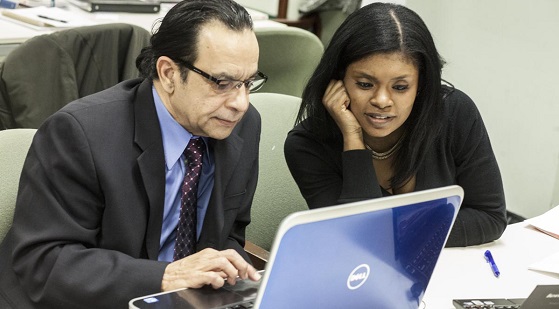 Racial and cultural equity are difficult to achieve in schools. The Leadership Academy's Equity Sims engage educational leaders in reflection and decision-making through interactive, video-based scenarios related to issues of racial equity in schools. The Equity Sims are a flexible professional learning resource to help your school and system leaders build capacity to identify and address actual issues related to racial equity.
Watch the informational webinar below to learn more about the Equity Sims and to see a preview of one of the simulations in action.
Available Simulations:
Four simulations are currently available – two cast the user in the role of a school principal and the other two place the user in the role of a district leader that supervises principals.
School Leadership Simulations
Discipline and Instruction: You play the role of a principal beginning your first year at a struggling middle school that serves mostly Black students and where academic expectations are low and disciplinary referrals high. At a staff meeting an influential teacher informs you that you don't understand the students or the community. How will you work with this teacher, and with all staff, to raise expectations and change the approach to discipline?
Inclusive School Community: You play the role of a principal at a school that was once all White, but now serves about 50% Latino students, including a growing population of English learners. Teachers are in urgent need of strategies to support EL students, and resources are thin. You've had an excellent relationship with the PTA in the past, and are considering asking for their assistance raising funds to provide teachers with professional learning. The PTA leadership, however, is still all White and doesn't perceive this need as relevant to all students. How will you work with the PTA—and with the whole school—to shift school culture and priorities to reflect the current population of students?
System Leadership Simulations
Looking Beneath the Surface: You uncover troubling data that suggest Black male students at a highly-regarded high school aren't being well served. The superintendent tells you not to pursue the issue, as it isn't a top concern at the moment. Meanwhile, the other high schools in your network are committed to equity and eager for your time and assistance. How will you remain true to your values while navigating the political terrain, and how will you how decide to allocate your time among schools?
Breaking Down Walls: You play the role of a leader in a district with an explicit commitment to equity. However, what is hailed as an achievement for girls of color at the high school—their overwhelming presence in AP science courses—also points to a problem: boys of color lack access to advanced coursework. Unfortunately, neither the principal nor the superintendent seems to grasp the implications of this issue. What will you do to help the principal (and the district begin) to think about equity differently?