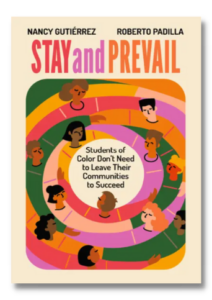 The Leadership Academy is thrilled to announce the July 24th publication of Stay & Prevail: Students of Color Don't Need to Leave their Communities to Succeed, a groundbreaking new book from Lead Executive Officer & President Nancy Gutiérrez and Bronx Community School District 7 Superintendent Roberto Padilla.
In this revolutionary guide to disrupting harmful mindsets and practices in our schools to ensure that students can thrive where they are, Gutiérrez and Padilla explore the dangerous narrative that students of color living in low-income communities must leave those communities to be successful. To dismantle this "Leave to Succeed" (L2S) mindset that characterizes marginalized communities as inherently bad or unworthy of success, Gutiérrez and Padilla interrogate how school and district leaders can nurture and support students to find success in their home communities. The guide shares real-world vignettes, reflection questions, and clear and simple tips for building an asset-based, uplifting approach that honors the backgrounds, cultures, and strengths of Black and Brown communities.
"We all have biases, but the question is whether we are aware of how they show up in our day-to-day decision-making and implementation of the work. We understand the challenges that exist in our communities, but abandoning our communities isn't the answer," said Gutiérrez and Padilla in a joint statement.
"Our young people of color are descendants of powerful, creative, and resilient ancestors whose contributions permeate every aspect of life. Stay and Prevail calls our young people to action, reminding them that they too are called to contribute to our rich legacy. Schools can be identity-affirming spaces when we are intentional," writes Kaya Henderson, CEO of Reconstruction, Pod Save the People cohost, and former Chancellor of DC Public Schools.
"We don't do enough to share stories of the communities that shaped us. Stay and Prevail calls us to action – naming a harmful deficit-based practice and challenging us to be the change we want to see," writes Tommy Chang, CEO of New Teacher Center, cohost of the MiseducAsian podcast, and former superintendent of Boston Public Schools.
Click here to learn more and order Stay & Prevail: Students of Color Don't Need to Leave their Communities to Succeed, and follow us on Twitter and LinkedIn for details on upcoming book launch events.