The NYC Leadership Academy today published research on the impact of ongoing coaching on principals' leadership practices and, ultimately, on their schools (fill out form below to access full report). Still in the Game: How Coaching Keeps Leaders in Schools and Making Progress found that a sample of school leaders in New York City who have been working with a leadership coach for at least five years: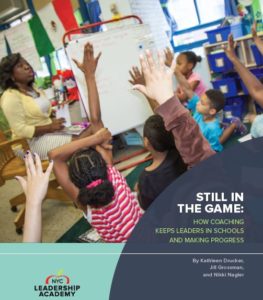 Remained in their schools more than twice as long the national average principal tenure in a school. In New York City, four out of ten new principals leave their first school within five years; in our study, all of the principals stayed in their first school for more than five years.
Improved their ability to supervise staff, distribute leadership, communicate, and lead with resilience.
Avoided complacency. After their schools made some initial progress, the principals in this study did not just coast. They worked with their coach to continue to make improvements at their schools.
Benefited from coaching thanks to the trusting relationships they were able to develop over time with their coaches.
Currently, only about half of principals nationwide are engaged in mentoring and coaching as part of their professional development, and that support is typically reserved for first-year principals or leaders in need of remediation, write Still in the Game authors Kathleen Drucker, Jill Grossman, and Nikki Nagler.
In addition to releasing the research paper, the Leadership Academy published an accompanying policy brief with eight recommendations of policy shifts that school, district, and state educational leaders can make to provide needed ongoing leadership coaching for their school leaders.
"In our 15 years of developing and supporting new, aspiring, and experienced principals, we have come to deeply understand the complex role of the school leader," NYC Leadership Academy President & CEO Nancy Gutiérrez said. "Principals must build trusting relationships with their students, parents, and teachers, while also being politically strategic. They must have a deep understanding of data analysis, research, pedagogy, and standards. Principals are responsible for dismantling troubling inequities such as disproportionality in discipline or access to advanced coursework. Principals benefit tremendously from coaching. In fact, principals who have strong, on-going, professional coaching are best able to make and sustain lasting change and improvement in their school communities."
Added Dr. Gutiérrez, "I still remain in close touch with my own coach, who was a critical thought partner for me as a principal and who continues to offer me valuable leadership insights and guidance today."
Please complete the form below to read Still in the Game.