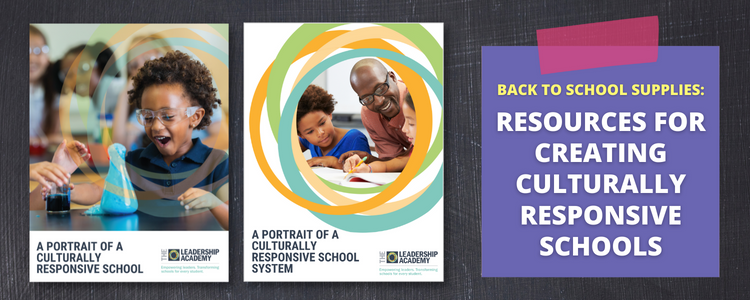 As you welcome students, families, and staff back to school, what kind of culture and climate are you creating in your own building or in schools across your system?
Consider:
How will you center students, families and community voice in decision-making about school policies and practices?
Have you created multiple ways for families to involve themselves in the school community including outside of traditional instructional hours?
Is every educator in the school community demonstrating warmth, compassion, and understanding for every student and family?
Are the professional learning experiences you're kicking off the year with and planning for the next several months based on data and current learning needs of staff? ​In what ways will teachers be able to have choice and voice in their own learning based on that data?
These are just a few of the dozens of guiding questions and possible action steps leaders can take that are outlined in The Leadership Academy's Portrait of a Culturally Responsive School and Portrait of a Culturally Responsive School System. Available for free on our website, these guidebooks are designed to help school and school system leaders intentionally create learning experiences and learning environments where every student has access to the opportunities they need to thrive, and where every educator can do their best teaching.
We encourage you to download and share these resources with your team, keep them on hand as you plan these early days of school and throughout the year. We would love to learn from you and hear how you use these resources – let us know and tag us about it on Twitter (@LeadershipAcad_). And if you want support using these resources, please reach out to us at contactus@leadershipacademy.org.
Best of luck and thank you for all you do to give your students and staff an exceptional school year!