Imagine walking into a classroom where students' identities are affirmed and reflected in the curriculum, where students are held to high expectations and given the supports needed to access grade-level, rigorous content. Imagine the tasks students are given not only assess students' knowledge of standards but invite them to critique and challenge systems around them as agents of change.
Imagine speaking with families and community members who feel like true partners to teachers and staff members, and who experience the school and school system as responsive to their needs. Imagine a classroom in which the diverse perspectives and voices of those families are celebrated and empowered so that their children can meet their full potential.
Imagine meeting the principal, who embodies the culturally responsive leadership dispositions necessary to shift adult practice and mindsets across the school, who coaches teachers and staff members to build inclusive and rigorous classroom and community spaces, and who cultivates a community of care and authentic engagement with families.
Now, finally, imagine walking into a central office that supports culturally responsive principals across their system—prioritizing the capacity building and investment in the adults who dedicate themselves to serving students and families. Imagine resources that are coordinated to develop schools in ways that meet their unique needs and tackle problems of practice identified by the school community. Imagine a central office that takes a comprehensive and strategic approach to cultivating the types of schools its leaders want for their own children and loved ones. Imagine a central office that centers and elevates family and community partnerships as a key part of their vision and mission.
When done well, this is what an effective culturally responsive leader can build.
Our organization turns 20 this year. We started our work by changing the face of the NYC principalship which, at the time, was predominantly White and male. We graduated more than 550 leaders across New York City– 65% of whom were leaders of color and 66% were women. The fact that the NYC principalship is now diverse and representative of the communities the system serves is not by accident.
Today, our reach extends to 39 states and is ever-growing. And while we continue to cultivate culturally responsive principals and honor the role of the school principal as a critical lever for change, the principal simply cannot do it alone. As such, our work has expanded to include a wide range of education leaders, up, down and across the system as well as customized services to support and advance educational equity through leadership.
One of the most important lessons over 20 years is that creating sustainable culturally responsive schools and systems cannot result from a single-layered approach where good work is happening in pockets, but rather from efforts that embody a multi-layered approach where good work becomes systemic.
As Jal Mehta, Harvard Professor of Education, reminds us, "Equity work is a form of deep learning. It requires developing new dispositions and ways of working and thinking, imagining, and organizing. It is a journey which has no end, but each layer builds upon the previous in ways that could not have been foreseen from the start."
A multi-layered approach must be multi-level–leveraging a systemic approach up, down and across roles and teams and multi-year—acknowledging that transformative, sustained results don't happen overnight with multi-entry points because shifting the practice of adults – individually and in collaboration with each other – requires taking into account existing practices, context and knowledge while cultivating new skills and beliefs. For example, a culturally responsive leader can ensure that every single classroom holds students to the highest of expectations with appropriate support to meet those expectations AND a culturally responsive leader can build a school culture where students' identities and lived experiences become part of the fabric of the school.
The reality, however, is that the majority of our schools and systems, even with the best of intentions and visions for long-term impact, often take a single-layered approach to the work which can maintain a siloed, one-size-fits all system that won't produce meaningful and sustainable change. Barriers reinforce and drive single layer approaches, such as leadership turnover requiring continuous "restarts;" political agendas that require leaders to walk a tightrope, or the latest and greatest flavor of the day that introduces new ideas and/or influences direction but doesn't become part of the fabric of the system. When the work is multi-layered, however, it doesn't depend on one person, one team, or one distraction.
A great example of a multi-layered approach is our new Culturally & Linguistically Responsive Partnership with the Atlanta Public Schools (APS), GA.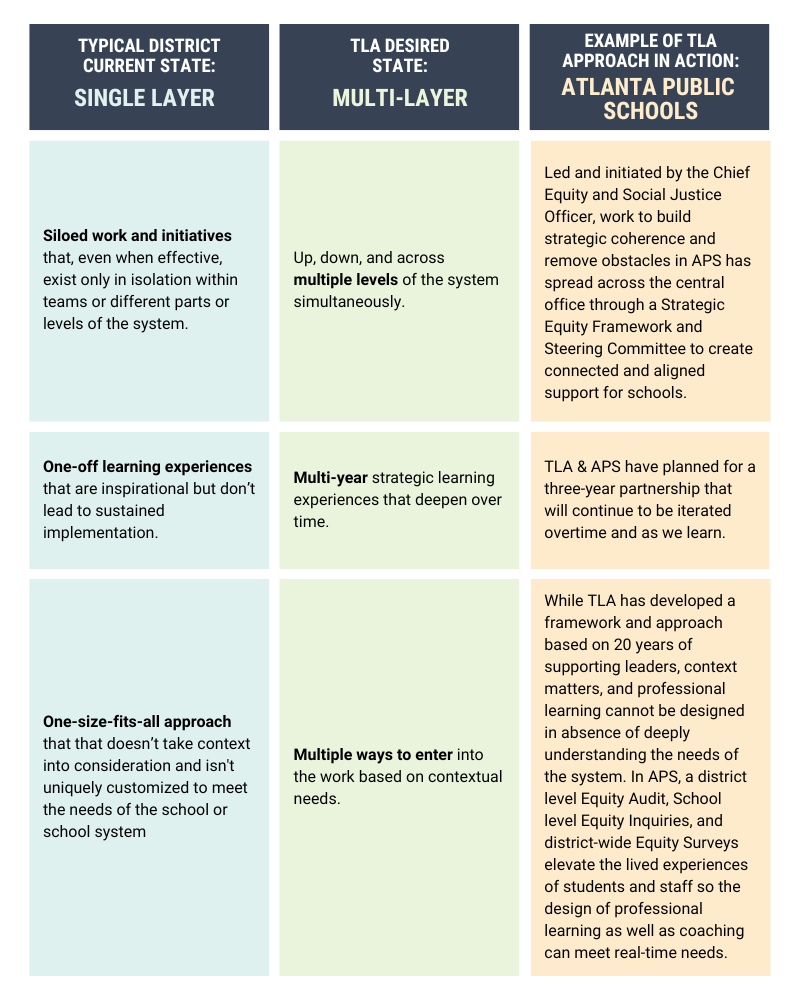 The key, however, is understanding that driving multi-layered change requires a sharp, sustained, strategic focus that everyone is aiming toward, with an understanding of how that focus integrates into the system's broader priorities and initiatives. In fact, trying to do it all or juggling multiple, disconnected initiatives will not lead to sustained success. For example, while TLA has 8 actions as part of our framework, the APS partnership prioritizes going deep on Leadership Action 3: Classroom Instruction which serves as the connected tissue and throughline for work across the system.
In our 20th year, we are called to a greater responsibility to leverage what we've learned to help make systems better, smarter, and more agile. While we must continue to invest in the individual leader, it isn't enough if we don't simultaneously invest in the system—at multiple levels, over multiple years, and through multiple entry points.
There is a call to action in the need for a multi-layered comprehensive systems approach. It is time to move past single-layer approaches, including the "leader as superhero" myth, and develop school systems in which all leaders have the will and skill to create schools where every student and adult is held to the highest expectations for learning and teaching. And where the test of effective leaders is not what happens during their tenure, but whether the work sustains long after they're gone.
Nancy B. Gutiérrez, Ed.L.D.
Lead Executive Officer & President
Dr. Nancy B. Gutiérrez is President & Lead Executive Officer (LEO) of The Leadership Academy, a nationally recognized nonprofit organization dedicated to supporting and developing culturally responsive school and school system leaders to create the conditions necessary for all students to thrive. Since 2003, The Leadership Academy has done work in more than 375 school districts, state education departments, and education organizations across the country, reaching over 12,000 educators in 39 states.
Nancy began her career as a teacher and principal in her home community of East San Jose, CA, where she was the founding principal of Renaissance Academy, the highest performing middle school in the district and a California Distinguished School. Nancy also led the successful effort to turn around the district's lowest performing middle school. She was named the UC Davis Rising Star and Association of California School Administrators' Region 8 Middle School Principal of the Year in 2010. In 2014, Nancy joined The Leadership Academy and served in various roles before being named President & CEO in October 2018. Prior to her tenure with the Leadership Academy, Nancy launched a program for executive leadership advancement for the New York City Department of Education that led to superintendent certification.
Nancy is a Fall 2019 Pahara-Aspen Education Fellow and was named one of the top 100 most influential leaders in education in New York in 2020. In 2023, Nancy was named San Jose State University's Distinguished Alumna.
Nancy is a graduate of the inaugural cohort of the Harvard Graduate School of Education's Doctor of Education Leadership (Ed.L.D.) program and is a graduate of the Association of Latino Administrators and Superintendents (ALAS) Aspiring Superintendents Academy. She has served as an adjunct professor for NYU, Teachers College and American University as well as an expert guest at various Harvard Principals' Center Institutes. Nancy is a frequent keynote speaker and has authored numerous pieces on education leadership for publications including Education Week, Kappan, The74, Learning Forward's Learning Professional, District Administrator, and Hechinger Report. She is also the co-author of Stay and Prevail: Students of Color Don't Need to Leave Their Communities to Succeed, a revolutionary guide to disrupting harmful mindsets and practices in our schools to ensure that students can thrive in their home communities.
Nancy is a member of the Board of Directors at the Hunt Institute, brightbeam, and Education Leaders of Color (EdLoC), and serves on the Latinos for Education teaching team.
Find Nancy on Twitter @nancybgutierrez or LinkedIn.