When the news about Uvalde broke last week, I was in a meeting with a dozen school leaders of color. We had come together as a collective – The Leadership Academy Principals of Color Collective – to support one another personally and professionally through the unique challenges that school leaders of color face. This group of leaders is laser focused on creating spaces where young people and educators feel they belong, where they feel valued and can be their full selves, where they feel safe – all critical conditions for the brain to do its best learning.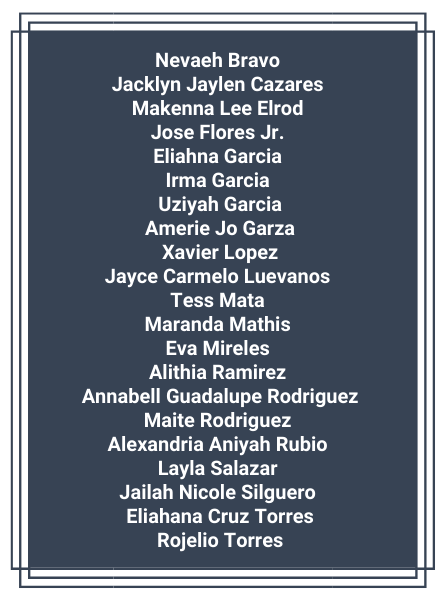 The news of the shooting stopped us in our tracks. We were distraught. We wondered, what will it take to lead the Robb Elementary School community through this tragedy? How can the principal and district leaders bring the community together to mourn, and to heal?
As culturally responsive leaders, we work so hard to make school the safe haven that so many children need physically, psychologically and emotionally. The violation of safety we saw at Robb Elementary, at Parkland, at the 119 school shootings that have taken place since 2018, have rattled families' trust in their schools. How do we earn it back?
Most school leaders have dealt with some level of trauma, particularly through the pandemic. Recent conversations I've had with principals and district leaders about ways to support school communities in processing the Uvalde tragedy and addressing fears and questions about their own school's safety have identified several steps leaders can take in the coming days, weeks, and months:
Create healing circles. Families, students and staff need room to process their emotions, to talk with one another about concerns and questions that Uvalde has raised for them. Create that space in your schools.
Invite families into the building to talk with students and staff about the pieces of school safety plans and procedures that you can publicly share. Discuss what it takes to build and sustain a strong, safe, trusting community.
Be vulnerable. Just as you invite others to lean on and be open with each other, do not be afraid to show your own emotions. It's also ok to admit that you don't have all the answers — just show the will and the skill to lead your community in finding answers.
Reach out to fellow principals for support, guidance and care. This is no time to lead alone. Build a network of school leaders and support one another personally and professionally.
Care for yourself. As leaders, these events will impact you personally. As author Resmaa Menakem shares in his book, My Grandmother's Hands, we all have trauma living in our bodies from the past few years and over generations that we need to deliberately name and move through. Creating a practice that supports you physically, emotionally and spiritually will be important.
If you are a school or school system leader, no doubt you have heard families' ideas for making schools safer – some parents might be asking you to limit and monitor points of entry; or keep exterior and classroom doors locked; or regularly drill students in active shooter scenarios; or have armed police walk the school hallways; or call for stricter gun laws. Some community members might be looking to you to better support students with mental illness; to hold every student to high expectations while giving them nurturing support; and to ensure every child has a strong, trusting relationship with at least one adult in the building.
Wherever you land as a community, be sure you are making decisions that center children.
Ask yourself, what does a safe and healthy learning environment look like for our children?
It's the least we can do for the beautiful children of Robb Elementary School and their families.
Resources
How education leaders and teachers responded in the days after Uvalde. (Education Week story)
Helping Teens with Traumatic Grief: Tips for Caregivers
Developmental Responses to Grief (Ages 2-18)
Tips for Supporting Children who are Grieving Tips for Supporting Children who are Grieving
Mary Rice-Boothe, Ed.D.
Executive Director, Curriculum Development & Equity
Mary Rice-Boothe, Ed.D., joined The Leadership Academy in 2015 and currently serves as Executive Director, Curriculum Development & Equity. In this role, she oversees The Leadership Academy's internal and external equity strategy, design, and collaboration, and ensures expanded access to our work through different learning systems. At The Leadership Academy, she has had the opportunity to partner with school systems across the country to support them in implementing their equity policies. Mary has also supported the development of equity-focused resources for district-level leaders looking to name and dismantle the inequitable practices they are seeing at the school and district level. Mary came to The Leadership Academy with more than 20 years of experience in education as a teacher, principal, mentor, and coach. Before joining TLA, she worked at New Leaders, a national non-profit organization, as Executive Director of Content and Assessment, leading the team that designed, developed, and delivered content and assessments for the organization. She began her career in education as an high school English teacher in East Harlem. Mary is a certified Courageous Conversations about Race Affiliate and a certified Facilitative Leadership Trainer. She sits on the board of Marathon Kids. Mary holds a BA in Metropolitan Studies from New York University, an MA in English and English Education from the City College of New York, and a Doctorate Degree in Leadership and Organizational Change from the University of Southern California. Her book, focused on leaders of color, will be published by ASCD in 2022. Mary lives in Round Rock, Texas, with her mom, husband, daughter, and son.