We say their names, just as we must say the names of all victims of hate.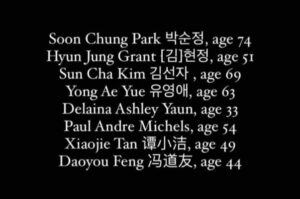 #SayTheirNames is not just a hashtag. It's a demand to recognize and name those who have suffered at the hands of our country's deep relationship with racism.  
They were mothers, fathers, brothers, sisters, who left their houses on Tuesday, went to work, only to be murdered in cold blood. What was their "crime?" What did they do to offend their murderer? The Georgia police captain shamefully said the murderer, whose name we will not say, was simply "having a bad day." But we all know the racism, xenophobia, and misogyny at play here: For six of the eight people in the Atlanta area who were killed on Tuesday, their crime was that they were Asian women. That's it. They were being themselves.  
As Geogia State Representative Bee Nguyen said, these murders illustrate "the vulnerability, the invisibility and the isolation of working-class Asian women in our country. And we know that vulnerability makes them targets." 
Just as we collectively raise our voices and outrage about racially charged violence and injustices committed against our Black and Latinx brothers and sisters, we must get loud about the injustices suffered by our Asian American Pacific Islander (AAPI) community. Hate against one of us is hate against all of us. In the words of Ibram X. Kendi, we are all "in a struggle to be fully human, and to see that others are fully human."  
To that end, I ask, 
When will we, as a nation, stop making it a crime to be our authentic selves?  
W

hen will we liberate ourselves and others to speak their truth

?

 

 

When will we speak 

out

 for each other?

 

When will we 

lean into our fears and push on those

 hard 

unanswered 

questions

 

like 

w

hy so many Americans fear people who are different from themselves? 

 
And most shamefully, why do we continue to render our Asian American Pacific Islander community invisible in our fight against racism? 
These murders are part of a larger trend of Anti-AAPI racism in American history. And since Covid-19 exploded in 2020, hateful people, fearful people, ignorant people have targeted, beaten, murdered our AAPI brothers and sisters, blaming them for what some public figures have hatefully labeled "the China virus." A year ago, I wrote about this hate and these crimes. It has only gotten worse. In 2020, Asian American Pacific Islanders were targeted in nearly 3,800 hate incidents. In the first two months of 2021, another 500 AAPI members have suffered hateful attacks.  
Activist Yuri Kochiyama offers inspiration. Following Pearl Harbor, Kochiyama and her family were imprisoned in a Japanese concentration camp in Arkansas, her father arrested as he lay in a hospital bed recovering from surgery, denied of further treatment. Her father died, and she and her family languished in the camp for two years. Out of that experience, a fighter was born. Kochiyama devoted her life to our collective struggle. She walked arm in arm with Malcolm X, and taught us to bring our own identity struggles to the broader struggle for human liberation.  
The Leadership Academy stands in solidarity with the AAPI community and is committed to building education leaders' capacity to better understand and address the root causes of this hatred. Educators are in a unique position to arm our students, our colleagues, and ourselves with the tools to see the fear and ignorance rooted in this hate and the destruction it creates, and to feel empowered to unequivocally call it out and demand change.  
On a personal level, I commit to: 
b

ein

g

 more

 inclusive in my fight for educational equity

;

 

more explicitly 

tackl

ing

 the complexities 

and intersections 

of

 identity

;

 and

 

d

oubling down

 on

 elevating the voices and stories of our AAPI community

 in education, in leadership, and in life.

 
Let us hear and live by the words of the great poet and activist Audre Lorde: "We can learn to work and speak when we are afraid in the same way we have learned to work and speak when we are tired. For we have been socialized to respect fear more than our own needs for language and definition, and while we wait in silence for that final luxury of fearlessness, the weight of that silence will choke us."  
In these days, weeks, and months to come, consider as well the words of poet Kamand Kojouri: "They are so ignorant they don't understand that my soul and your soul are old friends. They are so ignorant they don't understand that when they cut you, I bleed." 
Let's commit to being better—to standing side–by–side with our AAPI community who have long been invisibly by our side during our most challenging moments.  
In Lak'ech. 
Resources for fighting hate  
Nancy B. Gutiérrez, Ed.L.D.
Lead Executive Officer & President
Dr. Nancy B. Gutiérrez is President & Lead Executive Officer (LEO) of The Leadership Academy, a nationally recognized nonprofit organization dedicated to supporting and developing culturally responsive school and school system leaders to create the conditions necessary for all students to thrive. Since 2003, The Leadership Academy has done work in more than 375 school districts, state education departments, and education organizations across the country, reaching over 12,000 educators in 39 states.
Nancy began her career as a teacher and principal in her home community of East San Jose, CA, where she was the founding principal of Renaissance Academy, the highest performing middle school in the district and a California Distinguished School. Nancy also led the successful effort to turn around the district's lowest performing middle school. She was named the UC Davis Rising Star and Association of California School Administrators' Region 8 Middle School Principal of the Year in 2010. In 2014, Nancy joined The Leadership Academy and served in various roles before being named President & CEO in October 2018. Prior to her tenure with the Leadership Academy, Nancy launched a program for executive leadership advancement for the New York City Department of Education that led to superintendent certification.
Nancy is a Fall 2019 Pahara-Aspen Education Fellow and was named one of the top 100 most influential leaders in education in New York in 2020. In 2023, Nancy was named San Jose State University's Distinguished Alumna.
Nancy is a graduate of the inaugural cohort of the Harvard Graduate School of Education's Doctor of Education Leadership (Ed.L.D.) program and is a graduate of the Association of Latino Administrators and Superintendents (ALAS) Aspiring Superintendents Academy. She has served as an adjunct professor for NYU, Teachers College and American University as well as an expert guest at various Harvard Principals' Center Institutes. Nancy is a frequent keynote speaker and has authored numerous pieces on education leadership for publications including Education Week, Kappan, The74, Learning Forward's Learning Professional, District Administrator, and Hechinger Report. She is also the co-author of Stay and Prevail: Students of Color Don't Need to Leave Their Communities to Succeed, a revolutionary guide to disrupting harmful mindsets and practices in our schools to ensure that students can thrive in their home communities.
Nancy is a member of the Board of Directors at the Hunt Institute, brightbeam, and Education Leaders of Color (EdLoC), and serves on the Latinos for Education teaching team.
Find Nancy on Twitter @nancybgutierrez or LinkedIn.