Welcome back and congratulations on a new school year! I hope your summer had the right mix of professional learning, planning, and relaxation. While the summer months are a busy time for us at the NYC Leadership Academy, as we support school and system leaders with their learning and planning, I managed to carve out some time to read and reflect with my staff book group. We read (and in some cases re-read) Leadership and Self-Deception by the Arbinger Institute and I wanted to share some of our take-aways with you.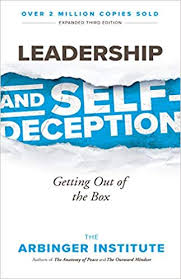 The messages in this book are simple yet profound: To be effective leaders, we must see the humanity in every person. We need to reflect on how we at times subconsciously put down others in order to justify and cover up our own lack of willingness to act and work harder and, really, to make ourselves feel better. This book continues to reinforce the message that by becoming more aware of how our interpersonal interactions impact others—whether in our personal lives or in our leadership roles — we can hold ourselves accountable and free ourselves to have more authentic and meaningful interactions and relationships.
When adults consider how challenges in the school are within their own power to change and are not the fault of students, parents and the community, real movement toward dismantling inequities can begin. My 8th grade teacher, Mr. Lovelace, did that for me – rather than take as fact other teachers' complaints about my "troublemaking" ways, he sought to truly see me and all my potential and focused on how he could support me.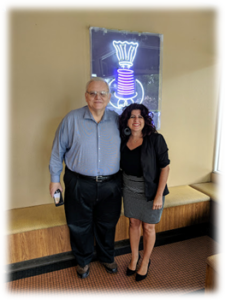 While he could have easily given up on me, he built a strong relationship with me and went above and beyond in his teaching to engage me with interesting writing opportunities. He unequivocally changed my life.
As we all begin a new school year, I challenge teachers, school leaders, and district leaders to join me in understanding the self-deception we are all, as humans, guilty of. Read the book, discuss it with colleagues, read it again. Acts of self-deception are especially dangerous when they impact the behaviors of leaders because of the power we hold. As leaders, we must continuously examine how our behavior impacts those around us.
Finally, as the authors encourage in the book, we urge you to see the whole person in front of you, whether a child or an adult, and to honor their humanity. Rather than seeing each adult as an object that is there simply to help forward your collective mission, focus on really seeing and deeply engaging each individual. Be willing to dig deeper and give more of yourself. The changes you make will be liberating for yourself and your team.
Nancy B. Gutiérrez, Ed.L.D.
Lead Executive Officer & President
Dr. Nancy B. Gutiérrez is President & Lead Executive Officer (LEO) of The Leadership Academy, a nationally recognized nonprofit organization dedicated to supporting and developing culturally responsive school and school system leaders to create the conditions necessary for all students to thrive. Since 2003, The Leadership Academy has done work in more than 375 school districts, state education departments, and education organizations across the country, reaching over 12,000 educators in 39 states.
Nancy began her career as a teacher and principal in her home community of East San Jose, CA, where she was the founding principal of Renaissance Academy, the highest performing middle school in the district and a California Distinguished School. Nancy also led the successful effort to turn around the district's lowest performing middle school. She was named the UC Davis Rising Star and Association of California School Administrators' Region 8 Middle School Principal of the Year in 2010. In 2014, Nancy joined The Leadership Academy and served in various roles before being named President & CEO in October 2018. Prior to her tenure with the Leadership Academy, Nancy launched a program for executive leadership advancement for the New York City Department of Education that led to superintendent certification.
Nancy is a Fall 2019 Pahara-Aspen Education Fellow and was named one of the top 100 most influential leaders in education in New York in 2020. In 2023, Nancy was named San Jose State University's Distinguished Alumna.
Nancy is a graduate of the inaugural cohort of the Harvard Graduate School of Education's Doctor of Education Leadership (Ed.L.D.) program and is a graduate of the Association of Latino Administrators and Superintendents (ALAS) Aspiring Superintendents Academy. She has served as an adjunct professor for NYU, Teachers College and American University as well as an expert guest at various Harvard Principals' Center Institutes. Nancy is a frequent keynote speaker and has authored numerous pieces on education leadership for publications including Education Week, Kappan, The74, Learning Forward's Learning Professional, District Administrator, and Hechinger Report. She is also the co-author of Stay and Prevail: Students of Color Don't Need to Leave Their Communities to Succeed, a revolutionary guide to disrupting harmful mindsets and practices in our schools to ensure that students can thrive in their home communities.
Nancy is a member of the Board of Directors at the Hunt Institute, brightbeam, and Education Leaders of Color (EdLoC), and serves on the Latinos for Education teaching team.
Find Nancy on Twitter @nancybgutierrez or LinkedIn.